Ralph Menten - chief executive officer
menten GmbH - We introduce ourselves
Industry-neutral but platform-bound – this basic orientation has helped menten GmbH gain an important place in the market as an innovative software house since 1989. Our choice of hardware was unmistakable from the beginning. Operational safety, reliability, and performance – the reasons for IBM System i and IBM Power Systems. It's our company's goal to work individually, problem-oriented, flexibly, and spontaneously to provide our customers with high quality services. We rely on the professional expertise, high motivation, and reliability of our employees.
Professional services for IBM
menten GmbH develops and distributes a high quality, in medium companies used application for electronic data interchange of IBM power systems.
As a solution for B2B communication and the automation of electronic business processes, is it used by renowned medium companies nationally and internationally to manage data conversions, communication, signature and encryption.
With many years of experience in project-businesses menten GmbH accompanies its customers by design, installation, installation and operation of complex EDI- connections.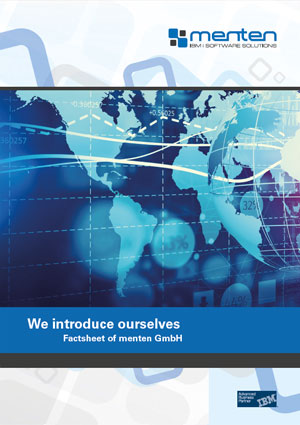 Factsheet of menten GmbH
Important facts
Over 600 customers around the globe
Our customer base consists mainly of medium-sized companies.
Since 1989 on the market
We owe our expertise to the experiences of the last 25 years.
Certifications
We are a system house and a certified IBM Business Partner. Even though we are platform-bounded we nevertheless place great emphasis on our independence and belong to the group of so-called IBM Independent Software Vendors.
~ 20 employees
Our team includes employees from the fields of development, marketing, sales and system administration.