Helpdesk / Service-Desk
for the Rhineland region
As an IT service provider, we help you fix IT problems remotely or on-site. We make sure that IT contributes to the accomplishment of your daily work and is not an obstacle. As an IT service provider, we place a great deal of emphasis on custom-fit IT solutions. Thanks to our service contracts, you receive our IT services at predictable costs.
What is a helpdesk?
How to use a helpdesk?
The term helpdesk refers to a system that ensures fast and efficient communication between customers and the service provider. With the help of a helpdesk tool, problems or requests can be communicated to the service provider via a bundled channel. In many cases, a helpdesk is used for customer support or in IT departments so that problems and requests from customers and employees can be processed as effectively and promptly as possible.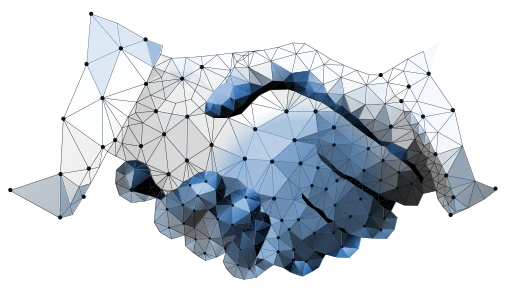 You have problems with the configuration, installation or troubleshooting your multifunction printer? Learn more about about our support for hardware like printers and multifunction devices!
Learn more about printer support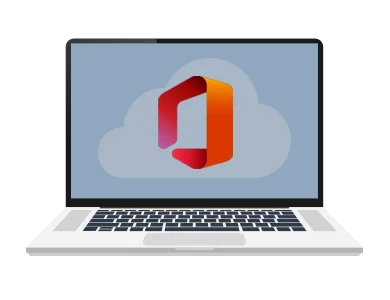 Do you need support with your Office applications? Whether Word, Excel, PowerPoint or Outlook: We offer a wide range of services around MS Office applications!
Learn more about MS Office support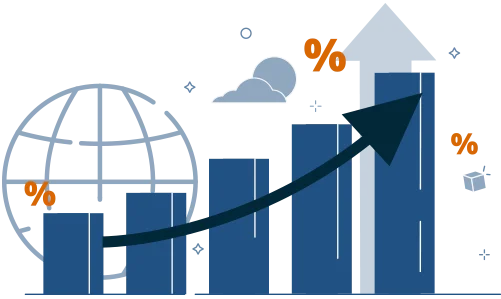 Advantages of a helpdesk
as a support tool for companies
To ensure that IT problems can be dealt with as quickly and effectively as possible, a targeted channel should be created for precisely such concerns. The variety of technical hurdles in everyday office life is large and some IT problem always gets in the way. The printer won't print, the headset gives up the ghost, the banking software won't connect, and even the last Windows update failed.
With a helpdesk solution, a central point of contact is established in which these often recurring problems are recorded and processed. The resources of all parties involved can thus be better utilized. In addition, workflows can map the standard processes and thus contribute to automation. Especially for small and medium-sized companies that do not have their own IT department, it is worthwhile to have a fixed contact person who assumes the role of IT helpdesk.
Helpdesk and ticket systems
A modern help desk includes a so-called ticket system. A ticket system is a tool that helps to manage and process customer requests or IT-Support inquiries. In the case of regular tasks, a ticket system can ensure structured work. In addition, the agents of the requests can also see the other tickets within the organization and thus also benefit from the solutions from the past in the case of similar problems.

IT-Helpdesk and IT-Service-Desk Outsourcing
Through IT-Outsourcing important resources can be saved. For companies that do not have the budget or sufficient staff for their own IT department, outsourcing the IT department (IT outsourcing) is suitable.
Consequently, in IT outsourcing, the external helpdesk of an IT service provider is used to handle all internal IT problems. A permanent IT service provider who takes over the entire IT support for a company can better help with more complex IT problems, as they deal with the company more often and more intensively.
How does a helpdesk
and support from an IT service provider work?
menten GmbH offers an individual and reliable helpdesk service for all IT problems and IT tasks. Our specialists help by phone via remote access (TeamViewer) or on site with everything that is technical in the broadest sense - but without technical gobbledygook! As an experienced IT service provider, we guarantee functioning IT solutions. Because many of the problems that are really annoying in the office can be solved quite easily, without unnecessary technology. So you are quickly ready to work again.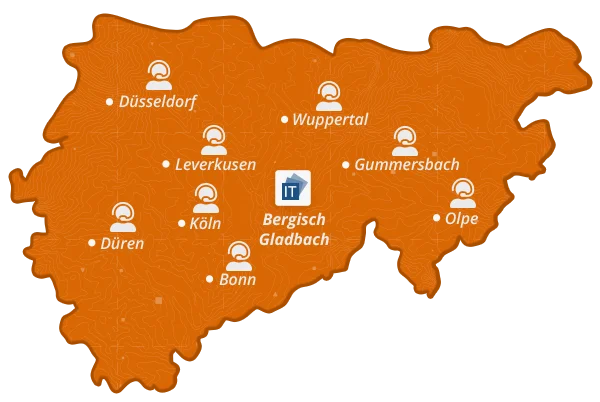 Helpdesk / Service-Desk
for the Rhineland region
As an IT service provider, we have a particularly regional presence as an IT help desk and IT support provider. Our areas of operation include Cologne, Düsseldorf, Bonn, Bergisch Gladbach, Leverkusen, Solingen, Remscheid, Düren, Troisdorf, Lüdenscheid, Kerpen, Grevenbroich, Dormagen, Bergheim, Hürth, Langenfeld, Sankt Augustin, Hilden, Pulheim, Gummersbach, Erftstadt, Frechen, Bornheim, Hennef, Brühl, Monheim am Rhein, Siegburg, Niederkassel, Wermelskirchen, Wesseling, Lohmar, Haan, Rösrath, Overath, Olpe, Bedburg, Wipperfürth, Jüchen, Lindlar and Windeck. This strategy is also reflected in our long-standing network of regional service providers. This enables us to help our customers even in places where help is not usually expected.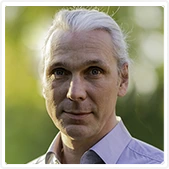 Björn Reimann
Sales Manager, menten GmbH
menten GmbH
An der Gohrsmühle 25
51465 Bergisch Gladbach
Germany
+49 2202 2399 0
[email protected]
Contact us for a non-binding consultation!
Sometimes the most difficult thing is to find each other. With us it is not.
We find out together how we can best help you.