Modern telephone systems - VoIP telephony specialists
in Bergisch Gladbach and surroundings
Fast, reliable communication with each other and with customers, voice menus, voicemail functions, call routing, traceable charge evaluations, and flexible connection of home offices and cell phones - a modern telephone system must provide all of these features to enable companies to work efficiently. Especially under the conditions of increasing Home-Office-work.
To enable many advanced functions, telecommunication and information technology are growing more and more together. Against this background, menten GmbH is the ideal partner when it comes to setting up or operating a cloud telephone system, no matter whether it is a new installation or a move.
menten is very familiar with the varying requirements of individual companies. Our consulting services start with the selection of a suitable tariff and continue with the handling of the Internet provider and former telephone provider, right through to technical implementation, maintenance and Support.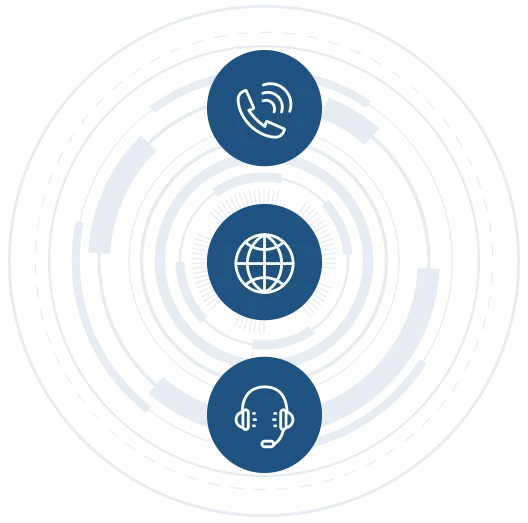 Conversion from analog telephony to VoIP telephony
With the digitization of its local exchanges, Deutsche Bundespost ushered in the ISDN era in the early 1980s. It was the leap from analog to digital telephony. In the meantime, the next technological step is behind us: in 2020, the last ISDN connections were switched off, and the era of Internet protocol-based telephony began - Voice over IP, or VoIP for short.

With ISDN telephony, the terminal devices and telephone system were directly connected to each other via their own cabling. With IP technology, voice data is transmitted to the system via the existing IP network. Cloud telephone systems go one step further. Here, the company no longer needs its own telephone system - the hardware in its own office is therefore no longer required. Instead, the IP telephones connect to the cloud telephone system via the Internet. Smartphones, PCs or notebooks can be connected to the virtual telephone system in the same way, regardless of location.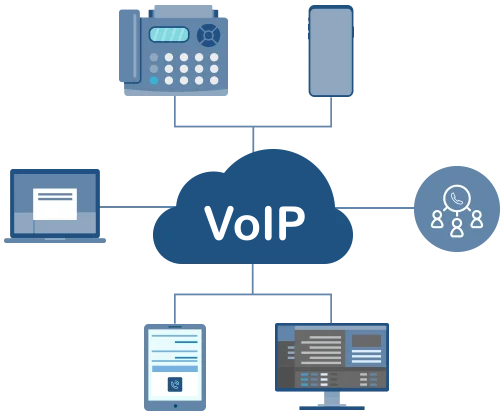 IP telephone systems
The classic telephone system in the office is no longer needed. Setting up a cloud telephone system means: more flexibility, spatial independence, minimal maintenance, functional diversity, lower connection costs and no need to purchase expensive hardware. The advantages are obvious.
Speech data is sent and received over the Internet during telephone calls. For each call, about 100 kBit/s are required for upload and download. However, a sufficiently dimensioned Internet connection, even for several simultaneous telephone calls, is nowadays already the rule.
Even in the event of Internet disruptions, you can continue to make calls without any problems if you have the right prerequisites: Because with cloud telephone systems, it is possible to connect smartphones in the mobile data network as a fully-fledged extension and use the company phone number. Another concern can be power outages - although they rarely occur in this country. Smartphones on the mobile network can help here, too - so your availability is always guaranteed.
Due to various projects with different telephone systems, menten is a specialist in setting up and supporting VoIP and cloud telephone systems. A change to the cloud can be carried out without interruption and, if desired, the system can also be adapted by you independently in a browser interface to best map your communication requirements.
Changeover to VoIP telephony in Bergisch Gladbach and the Rhineland region
The phones and cloud system are maintenance-free and reliable, and any desired adjustments or changes can be made remotely. However, if an on-site visit is advisable, for example for the purpose of setting up/replacing the end devices or for a consultation, it is advantageous to work with a service provider in the vicinity. That's why our telephone system service is aimed in particular at companies in the Cologne, Düsseldorf, Bonn, Bergisch Gladbach, Leverkusen, Solingen, Remscheid, Düren, Troisdorf, Lüdenscheid, Kerpen, Grevenbroich, Dormagen, Bergheim, Hürth, Langenfeld, Sankt Augustin, Hilden, Pulheim, Gummersbach, Erftstadt, Frechen, Bornheim, Hennef, Brühl, Monheim am Rhein, Siegburg, Niederkassel, Wermelskirchen, Wesseling, Lohmar, Haan, Rösrath, Overath, Olpe, Bedburg, Wipperfürth, Jüchen, Lindlar and Windeck. A large proportion of our customers also come from this region.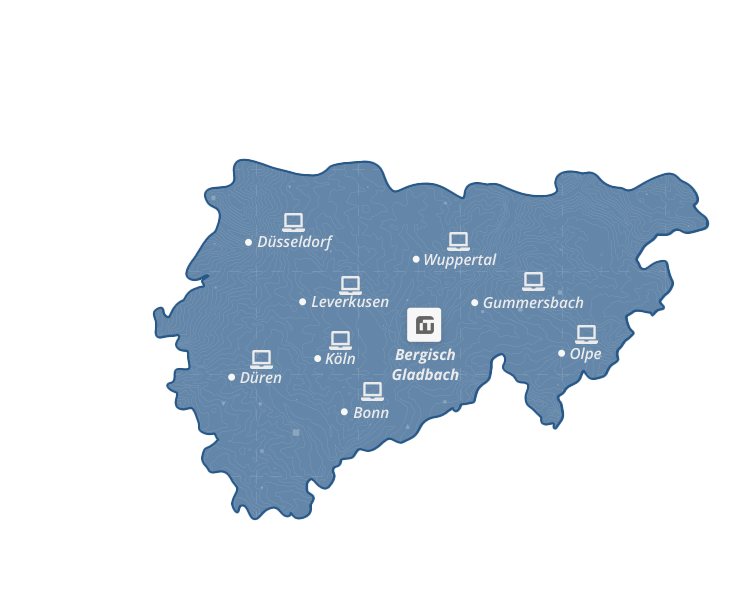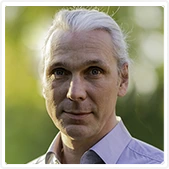 Björn Reimann
Sales Manager, menten GmbH
menten GmbH
An der Gohrsmühle 25
51465 Bergisch Gladbach
Germany
+49 2202 2399 0
[email protected]
Contact us for a non-binding consultation!
Sometimes the most difficult thing is to find each other. With us it is not.
We find out together how we can best help you.