Printer Installation & Setup for Companies in Bergisch Gladbach and Surroundings
Having trouble with your multifunction printer? Everyday office life is hard to imagine without a functioning printer with fax, scan and copy functions. In some cases, important business processes cannot be continued if the device is not working. In such a situation, a company not only loses important time, but also money. menten GmbH offers you services around printers, copiers, scanners & fax machines.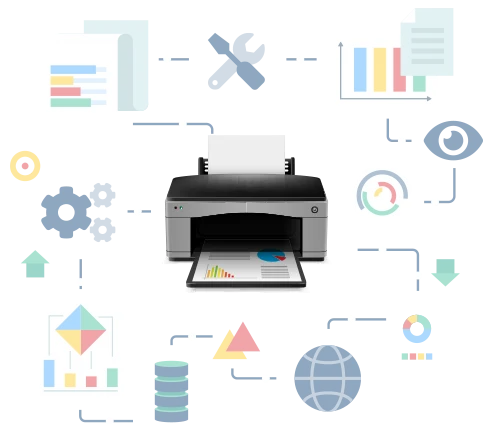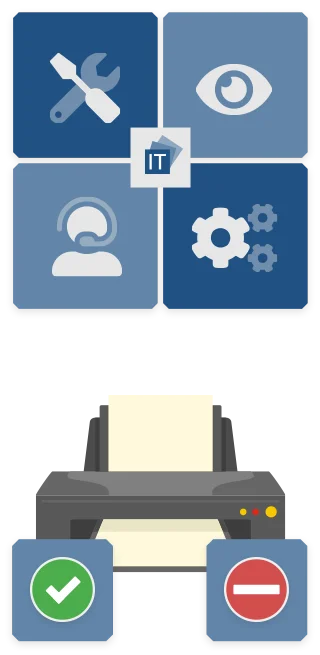 Printer configuration (copier, scanner, fax)
As an all-round IT service provider, menten offers a comprehensive service portfolio that covers almost all areas relating to printers, copiers, scanners & fax machines. When setting up and configuring a simple printer or a multifunctional printer, we develop a suitable solution that precisely meets all of your company's desired requirements. In concrete terms, this means that we install, configure and support your devices. In the event of an error or problem, we will be at your side immediately to ensure that your office printer is up and running again quickly. We provide our help directly on site or remotely (remote maintenance).
Typical printer problems - we help to avoid them
One of the most common faults that occur in printer systems is a defective paper feed. Another problem that occurs more often is incorrect color representation. In some cases, a print operation cannot be performed properly due to network malfunctions. The reasons for all these malfunctions can sometimes be very complex. In many cases, (especially small and medium-sized) companies do not have a contact person who is responsible for such problems. Here we help with our partner network.
Printer, copier,
scanner & fax machine setup
When setting up printer systems, many different functions can be taken into account to suit the benefits and needs of your business. We can set up any solution for you, from a simple printer with a copy function to multifunction systems with a network connection. Additional functions such as address books, sending scans by mail, scanning to network folders and many more can also be set up.
Printer repair, troubleshooting & configuration for the Rhineland region.
As an IT service provider for printers, copiers, scanners & fax services, we have a particularly regional presence. Our areas of operation include Cologne, Düsseldorf, Bonn, Bergisch Gladbach, Leverkusen, Solingen, Remscheid, Düren, Troisdorf, Lüdenscheid, Kerpen, Grevenbroich, Dormagen, Bergheim, Hürth, Langenfeld, Sankt Augustin, Hilden, Pulheim, Gummersbach, Erftstadt, Frechen, Bornheim, Hennef, Brühl, Monheim am Rhein, Siegburg, Niederkassel, Wermelskirchen, Wesseling, Lohmar, Haan, Rösrath, Overath, Olpe, Bedburg, Wipperfürth, Jüchen, Lindlar and Windeck. This strategy is also reflected in our long-standing network of regional service providers. This enables us to help our customers even in places where help is not usually expected.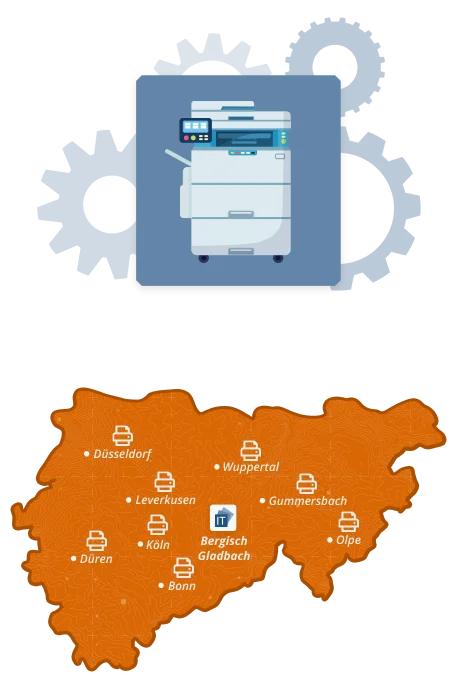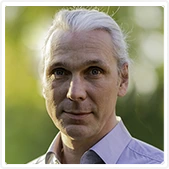 Björn Reimann
Sales Manager, menten GmbH
menten GmbH
An der Gohrsmühle 25
51465 Bergisch Gladbach
Germany
+49 2202 2399 0
[email protected]
Contact us for a non-binding consultation!
Sometimes the most difficult thing is to find each other. With us it is not.
We find out together how we can best help you.